How I Went From Broke Corporate Cog To Successful Financial Coach
Hi, I'm Forrest Huguenin and I want to share a bit about my story and how I came to be here. It was 1991 and I was at the lowest point of my life. I'd lost my job. My car had just been repossessed. My in-laws at the time wanted to kick me out of the house we had been renting from them. And, I didn't have a clue about where my next dollar was going to come from.
And if that wasn't enough… my son had just been born! I remember holding him in my arms and saying "Welcome to the world son. Daddy doesn't have a job." And I started crying.
I wish I could say that in that moment I had an epiphany, picked myself up, and from then on I plotted an unrelenting course towards success and financial security. Nah. Sadly, that was not to be. I had a few more ups and downs, including a bankruptcy, in my future.
I was convinced at the time that the key to financial security was simply in learning about how to handle money. So I devoured a ton of books on the subject and attended seminars, joined MLM schemes, joined myself to a crooked business partner (that ended in a Grand Jury and my being a federal witness), changed jobs… changed jobs… and changed jobs. I was always chasing dollars, thinking that the answer to all my woes lay in making more money. And every time I failed at the money game I blamed someone or something for my bad fortune.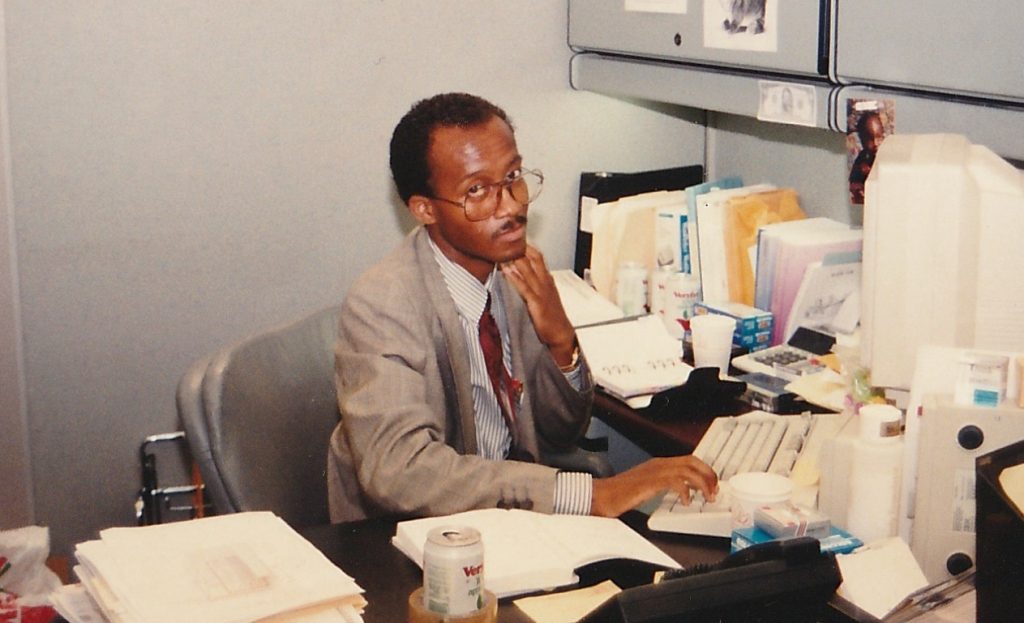 Then one day I was listening to a motivational speaker say the thing that finally shifted my thinking. He said "You will not ever change your circumstances until you get sick and tired of being sick and tired." That was the great Les Brown and I felt like he was talking directly to me. Then it hit me. I wasn't yet sick and tired of being sick and tired. I was more or less content to keep getting what I had always been getting.
Until then I had not understood that managing money is only 20% mechanics but 80% mentality! It was at that point that I realized I wouldn't get anything different until I changed the person I was within.
That's when I started accepting personal responsibility for my life. I also started to change my mental relationship with money. Rather than money being the answer, it became a vehicle to achieving my life goals. And everything I did, from work to decisions on spending to giving to saving, had to be in harmony with my life goals, principles and values. To my great surprise, when I started thinking and moving in that way, I started getting different and better opportunities and results!
It's also when I realized that jobs were not the answer. I declared openly my intention to find a better way than another J.O.B. (Just Over Broke). Another surprise! That's when a pivotal opportunity came my way. On a fluke, a friend hired me to organize his messy files in preparation for a state audit. He came back from the audit and told me the auditor said "Whoever did this for you needs to be doing it for a living."
That began my career as a professional organizer, which morphed into being a life coach, which morphed into being a financial services representative for a major firm and then I transitioned from that to being a financial coach, working for myself.
Along the way I helped hundreds organize their lives and finances through workshops, seminars and one-on-one sessions. I helped a lot of people get their lives and finances together.
But they also helped me. Because each time I worked with someone, taught a workshop or conducted a seminar, I learned and grew and got better at this thing called life and personal finance. I also got the greatest reward I will ever experience in this calling. People said "thank you for helping me." There can be no greater reward to me than hearing those simple words because it means I made a difference in someone's life. And that is what it's all about!
That's the unique experience I bring to you. Because I have that unique experience (and all those bruises!) I devote myself to helping people just like you stop being the person I used to be. I help you understand the changes you need to make to bring your money into alignment with your goals, principles, values and dreams so you can see real, massive change in your outcomes.
Oh, I'm not perfect. I still make mistakes. I'm not some magical guru. And I'm not a hero. I'm just a guy with a little more experience than the folks I work with because I walked the path they are walking a little earlier than they have. And I have a burning desire to help them avoid the pain that comes with making the mistakes I've made!
Please, let me share my experience with you. Let me show you how the techniques I've developed, the same ones that changed my life for the better, can also help you make massive change in your life and your money. Let me walk beside you on your journey. Let me help you.
Professional Bio
I've spent the majority of my corporate life working for various investment banks, including Toronto Dominion, BV Capital and Standard Bank. My financial services chops, and the place where I earned my securities licenses, was with Met Life. I also spent a decade in real estate, most of that time as a Century 21 agent dealing with the ins and outs of buying and selling real estate.
I was always attracted to the world of finance. Kind of ironic since I struggled so much with mastering it myself. But, maybe that's why I was always in orbit around money management. I needed to tame the beast that had hurt me so badly over the years. And all that experience gave me the skills I need to help others. My experience as a financial services representative taught me about investments and personal money management. It also taught me the intricacies of risk management, insurance and how those products fit into our personal lives and financial portfolios.
And all that experience gave me the skills I need to help others. My experience as a financial services representative taught me about investments and personal money management. It also taught me the intricacies of risk management, insurance and how those products fit into our personal lives. My experience in real estate taught me how the largest purchase most of us will ever make fits into our financial portfolio and what we need to do to choose it wisely, manage it for the long haul and avoid costly mistakes that can lead to losing it..
And finally, coaching all those people and helping them learn about and master this thing called money has given me a wide and deep insight into how people relate to money and just what role it should play in our lives. I was able to help all those people gain financial focus and money mastery.
Are you ready to learn how to gain financial mastery too?
TAKE ACTION TO MASTER YOUR MONEY NOW!
If you're financially curious, scared or sick and tired of being sick and tired then it's time to take the next step. Schedule a free Discovery Session with me online, either via phone or web conference, and find out just how your finances stack up against your goals, how well prepared you are to face a financial emergency and what you can do to make improvements to your financial situation.
You are under no obligation to purchase anything and at the very least, you will come away with a better understanding of your current financial picture. To get started, follow the link below to my calendar and pick the time most convenient to you.