If You Find That Managing Your Money Is A Challenge Because Your Pay Varies From Check To Check, You've Come To The Right Place
---
Living on a variable income isn't always easy. If you'd like some tips on how to make it work, I've got you covered with this valuable resource…
GET YOUR FREE PDF COPY OF MY
"GUIDE TO THRIVING ON A VARIABLE INCOME"
Learn the 5 things you need to know in order to get off the up and down rollercoaster of a variable income.  Packed with valuable, need-to-know info, t's my thank you for joining my mailing list.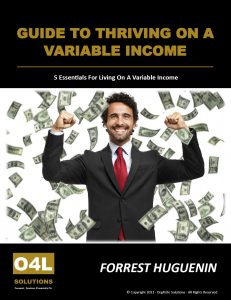 ---
How I Went From Broke Corporate Cog To Successful Financial Coach
Hi, I'm Forrest Huguenin and I want to share a bit about my story and how I came to be here.  It was 1991 and I was at the lowest point of my life.  I'd lost my job.  My car had just been repossessed.  My in-laws at the time wanted to kick me out of the house we had been renting from them.  And, I didn't have a clue about where my next dollar was going to come from.
And if that wasn't enough… my son had just been born!  I remember holding him in my arms and saying "Welcome to the world son.  Daddy doesn't have a job."  And I started crying.
I wish I could say that in that moment I had an epiphany,  picked myself up, and from then on I plotted an unrelenting course towards success and financial security.  Nah.  Sadly, that was not to be.  I had a few more ups and downs, including a bankruptcy, in my future.