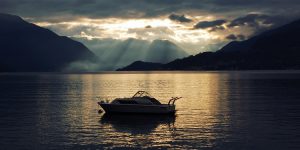 I have a daily ritual.  Every morning when I'm commuting in my car I listen to Steve Harvey.  The other day he gave this great story in his closing remarks.  It's an old story and I'd heard it before, a little differently, but the point still remained essentially the same and I enjoyed hearing him recount it because it reminded me of something.  More on that later.  The point is, it's a great story to help you reprogram your mind if you find yourself reacting badly to negative situations and people in your life.  But now for the story, as I remembered it.
There's this wealthy guy who wakes up one morning and seeing it's a beautiful day, decides to take his boat out on the ocean.  He's chilling, laying on the deck and thinking his life couldn't get any better.  He has a successful business, millions of dollars and lots of friends and a loving family surrounding him.   This is the life!  Then out of the blue, a sudden storm brews up.  His ship is battered by waves and wind all day and night long until finally he gets washed overboard.  He wakes up the next morning on a deserted isle.  He has nothing but the clothes on his back and a few items in his pockets.
Finding food is difficult and starting a fire is nearly impossible, but he manages to scrape by on coconuts and bananas.  He is constantly plagued by insects and the scorching sun.  Days go by and his hopes of being rescued begin to fade.  His mood sinks along with his fading hopes.  So, he figures he might as well build a shelter to get some relief.  He cobbles together a lean-to of sorts built of logs, palm fronds and vines to raise him off the ground and protect him from the creatures and scorching sun.  Through trial and error he learns how to spear fish using a crude spear he crafts.  He even manages to get a fire going to cook what few fish he can catch and to keep him warm.  His mood gradually begins to lift.
Then one night another storm blows in, bringing a bone chilling rain with it.  The poor man huddles up under his makeshift shelter staying close to his fire in an effort to keep warm and dry.  But as the wind picks up, it blows an ember from the fire onto his shelter and it catches fire!  He desperately tries to put it out but the flames quickly consume his tiny home.  With no more shelter he spends the remainder of the night in the open, drenched and shivering in the cold rain.  His mood grows progressively darker until finally he stands up and begins to rage against anything and everyone, including God himself.
"Why me?" he yells at the night sky.  "What have I done to deserve this?  My life was going so well and suddenly this.  I've been a good person, tried to do my best by my fellowman my whole life, never lied, cheated or stole a thing and this is how I'm repaid.  Why God, why?" he screams in vain.  "It's just not fair!"  Finally, exhausted and spent, he collapses on the ground and begins sobbing uncontrollably.  The storm continues through the night unabated and he gets little rest.
The next morning, the sun shining on his face wakes him up.  In the distance he sees a large ship anchored offshore and also a smaller boat making its way to shore, with 3 men inside it.  Can it be?  At long last is he going to be rescued?  Eventually, the boat makes landfall and the men get out.  Overjoyed, the man embraces each person in his rescue party, overcome with tears of joy.  He finally asks, "How did you know I was here?"  One of them replies, "Why, we saw your signal fire last night and we knew someone was in distress and needed to be rescued."
So, what's the moral of the story?  Sometimes life can seem to be going so well.  Then out of the blue, it can all seem to go left on you.  We may be left wondering why "bad" things are happening to us.  We may feel it's not fair and blame everything and everyone around us.  This can sink us into a deep depression that serves us or the people around us no good.  But sometimes, the fires that seem to be burning our life down are actually the very things we need to make us even better.  Had that man's shelter not caught fire, he would've remained marooned on that island.  It did not seem like a good thing at the time, but ultimately it was his means of deliverance.
Maybe that relationship ended so that you can make room for a person that you can truly compliment and that compliments you in return.  Maybe that job ended so that you can find your passion and create a business or take a new career path that is more fulfilling.  Maybe you had to lose everything so that you could come to appreciate what is truly valuable in life.  And maybe this trial that is befalling you is the thing you need to build the qualities necessary for success in your life.
It is the natural inclination to go negative in a negative situation.  But, with training, we can teach our mind to benefit when things do not go according to plan.  You see, a given situation is 90 percent how we react and only 10 percent what is actually happening.  And ultimately, our current life situation is 100 percent a result of the choices we have made.  With that in mind, here are three questions you can ask when faced with a trying circumstance:
What have I learned that I can use to keep this from happening again?  Life is a series of lessons.  Some have to be learned personally in order to get have the most value.  So, in any setback, look back over your choices, the people surrounding those choices and the circumstances and ask what you might have done better so that you do not repeat the same mistakes the next time.
What do I still have that I can be appreciative for?  Living in gratitude is key to success in life.  Some people are so busy blaming everything and everyone around them and so stuck on what they don't have that they miss the simple joy that comes from appreciating what they do have.  Do you have shelter, clothes, food, a means of living and people who love you?  Did your car start this morning?  If so, be grateful for those things and all the others.  There is always something to be grateful for!  By focusing on what we have and being grateful for it, we make way for more positive things to come into our life.  But if we only focus on the negative, we will not even answer the door when good comes knocking.
What new opportunities may be presenting themselves that I'm not seeing right away?  Is there a chance to learn something new or better my education?  Is there an opportunity to improve my circle of friends and associates that could open new avenues of growth for me?  When life closes this door for you, what other ones are opened?  Asking these things will always keep you alert to hidden opportunities that may be just the thing you need to exponentially shift your life for the better.
Yes, it may be hard to see the good in seemingly bad situations, but there is always a silver lining in every dark cloud.  You just have to want to see it.  Don't be that person who sees a dark cloud in every silver lining.  No one wants to be around that person and you will be miserable for the rest of your life.  Rather, take the time to show gratitude for what you have, learn from past mistakes and be on the lookout for new and exciting possibilities.  Doing these things will always keep you positive and on the right track!
If you found this article helpful, please know that you can find more like it by following my blog at www.Org4LifeSolutions.com.  There you will find all kinds of hints, tips and tricks you can use to cultivate the good habits that will lead to better focus and success in life.  And now, when you join my email list, you will get the FREE course "5 Days of Focus."  In this 5-day course, you will learn how to envision your dream life, uncover your big why, plan for and overcome obstacles that may arise along the way and set realistic goals to achieve them.  It also comes with a bonus PDF that you can use along with it to plan your dream life.  Until next time, remember:  Own it.  Be it.  Achieve it!